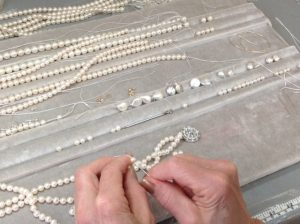 Michaela offers a service for cleaning and re-threading old necklaces, to ensure that the pearl jewelry you have purchased will continue to accompany you for further generations, beautiful as on the day you purchased them.
PEARL STRINGING
Priced at $3 per inch.
Item                           Price
16 inch Necklaces         $48
18 inch Necklaces        $54
20 inch Necklaces       $60
22 inch Necklaces       $66
34 inch Necklaces     $102
Any special shape pearl necklace re-threading price will be determined after examining the item
Bracelets                 $22
CLASP REPLACEMENT
We have a vast inventory of clasps suitable for pearl jewelry and would be happy to replace yours.  .
PEARL CLEANING
From $20.00 Price is dependent on the item and the amount of work that is required.  Please contact us for a personalized quote here.